The Ingalls Building (Ohio, Cincinnati, USA) built in 1903 was the World's First Reinforced concrete (RC) Skyscraper.
Prior to its construction, the tallest RC structure was only six storeys high. This 15 storey building was designed by the Cianciati architectural firm Elzener & Aderson and engineer Henry N Hooper.
Since Concrete possesses very low tensile strength many at that time believed that a concrete structure as tall as the Ingalls building would collapse under its own weight. When the building was completed and the supports were removed, one reporter allegedly stayed awake through the night in order to to be the first to report on the building's failure.
Hooper designed a monolithic concrete box of 200 mm walls, with the floors, roofs, beams, columns and stairs all made of reinforced concrete. Columns measured 760 mm x 860 mm for the first 10 floors and 300 mm2 for the rest floors.
The building was constructed in just eight months and has been in constant use ever since. It was the tallest reinforced concrete building in the world until the 281-foot tall Medical Arts Building in Dallas, Texas was built in 1923.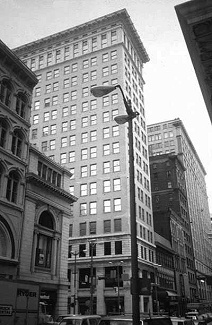 According to the American Portland Cement Manufacturers Association, the Ingalls Building accounted for about one-half of one percent of all the cement used in the United States in 1902 to 1903.
The Ingalls building is a massive structure, consisting of solid columns and foundations reinforced with the square-twisted steel bars. The dimension of finished building was 15 m x 30 m at its base and was 64 m tall.
Still in use, the building was designated a National Historical Civil Engineering Landmark in 1974 by the American society of Civil Engineers; and in 1975 it was added to the American National Register of Historic Places.